I am sad.

Today, I got to run. I was thinking it was a great day to race. Thousands were, in Boston. I knew when I got back from my run, results of the elites would be pouring in from the BAA app I downloaded last night.

I was happy to see how my favorites had done. Though they hadn't won, the American ladies had done well. Shalane and Kara had paced with each other for 30 km out of 42 total. They worked as a team, which is pretty amazing. I hope they keep training together. I think they're great role-models for my girls.

Friends were watching. Friends were running. All their tweets and Facebook posts were positive.

Then this happened:



Everyone that I knew at the race has reported in, and is okay. Yet, people lost their lives. People were hurt. People lost others they cared about. People lost legs and arms. People are panicking because they can't track their loved ones. People can't contact their loved ones, because they're phones are in the baggage check, and that's the least concern right now. People had their dreams stolen from them, and somebody robbed them of their reward for months and years of dedication and sacrifice. None of that is okay.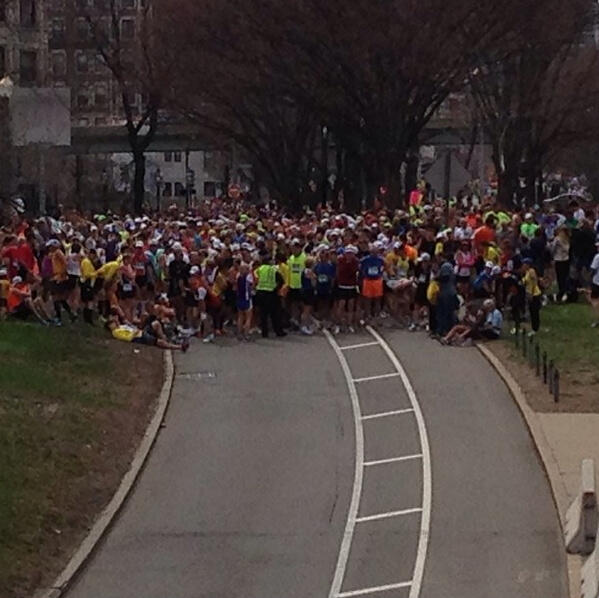 Runners stopped at mile 21.
And then the images and sign I can't get over...
Each mile, dedicated to one of the Newtown victims
The final mile marker...
Many news agencies posted something similar to this:
"
Update 4:07 p.m.

: Newtown families

were reportedly seated

in the VIP section right by where the explosions went off. There's no word whether they

are among

the 23 injured and two dead from the explosions.

"
I've got no real words, and I've been trying to come to grips with everything. I needed to get it all out, and have been trying to say or think of what to say for the last 3 hours. I can't. I'm livid, and sad, and what does that make me want to do?
It makes me want to run. I always feel safe on my run. I am free, and nothing can touch me, even on my worst day on the road.
For these people, I hope they get to experience that again.
Finally, there's this...
Go back to the video. See all the helpers. Look how fast the race volunteers and Boston police on duty responded to the scene. See how fast Army reservists and National Guardsmen jumped in to clear out the barricade so other first responders could help clear the area. The medical tent is always just past the finish line, as well. That could have only helped, as doctors, nurses, EMTs, and ambulances were all there.
the vast majority stands against that darkness and, like white blood cells attacking a virus, they dilute and weaken and eventually wash away the evil doers and, more importantly, the damage they wreak. This is beyond religion or creed or nation. We would not be here if humanity were inherently evil...'
The good outnumber you, and we always will.'
"
Tomorrow's run and track meet will be a little weird.
I'm glad the people I know are safe.
I hope that the ones you know and love are safe, too.
I'll pray for the victims, the first responders, and everyone touched by this.
It's a mad mad mad mad world.
Update: The man pictured above has been seen on numerous news outlets. The good news is, though knocked down by the first explosion, he was uninjured. He is the spirit of the marathon. He is Bill Iffrig, of whom the Everett (WA) Herald had this to say:
"

Bill Iffrig of Lake Stevens was just short of the finish line in the 26-mile Boston Marathon when he heard a horrific noise and found himself on the ground.
He didn't know what happened
...
A race official came to check on him and helped him up.
Then, accompanied by the official, Iffrig walked the last 12 feet or so across the finish line.
"I ended up second in my division," he said. "After you've run 26 miles you're not going to stop there." His timing chip marked his finish at 4 hours, 3 minutes, 47 seconds.
"
Update: Anby Burrfoot was running the Marathon in honnor of the 45th anniversary of his win. Here's how he summed up his day, as he was stopped less than a mile from the finish.
Unclaimed baggage at the finish